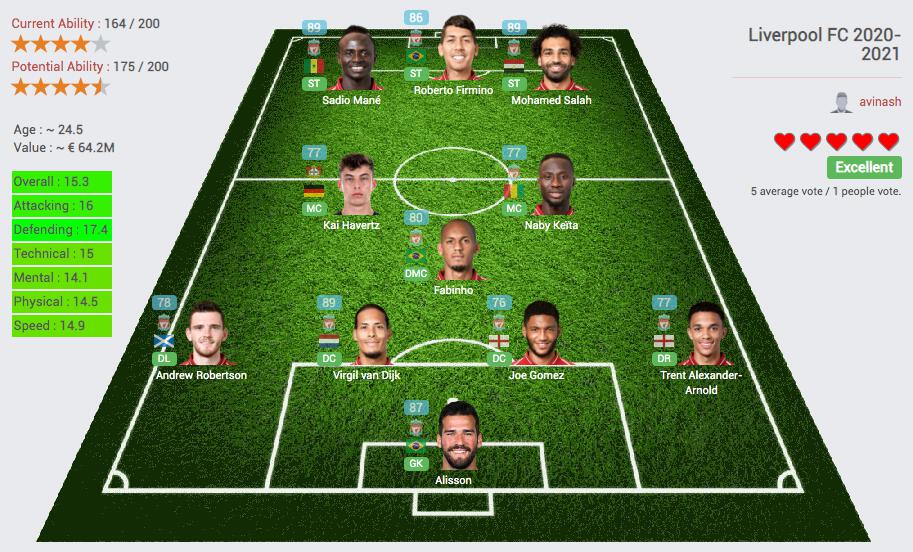 It looks certain that Liverpool FC will win the Premiership for the first time in 30 years.
Given that the team is already very good (and this is a major understatement) and that the finances are good (and this is another major understatement), Liverpool FC has quite a lot of money to buy 1-2 world class players.
I believe that Liverpool will focus on its midfield this year.
Georginio Wijnaldum is a fantastic player but he is nearly 30 and will have to be replaced relatively soon. I reckon that Kai Havertz, who is left-footed, is the ideal replacement for him. Alongside Naby Keita, who is right-footed, this midfield looks very balanced and creative. Of course, Fabinho also has an important role to play, especially when Andrew Robertson or Trend Alexander-Arnold are attacking.
Captain fantastic, Jordan Henderson, and James Milner will still play important roles next year but, maybe, will feature less.
As for the attackers, Jadon Sancho would be a great cover for either Mohamed Salah or Sadio Mané. As he is right-footed, he might be used more on the left so that he can cut in when attacking. I wonder whether a similar left-footed player exists so that he can be used on the right? The likes of Antoine Griezmann, Bernardo Silva, Leroy Sané or Ousmane Dembélé might fit the bill but they are surely unavailable. But, now with the EUFA judgement against Manchester City, maybe it might be possible to land either Bernardo Silva or Leroy Sané?
Finding someone else like Roberto Firmino is a little bit more difficult. Ideally, Paulo Dybala would be perfect. But someone like Joaquín Correa or even Ayoze Pérez would be useful as well. And, of course, we should not forget about Divock Origi.
As for our kids, based on what I've seen, Curtis Jones, Pedro Chirivella and Neco Williams are ready. And, possibly, Harry Wilson as well.
The future looks bright.