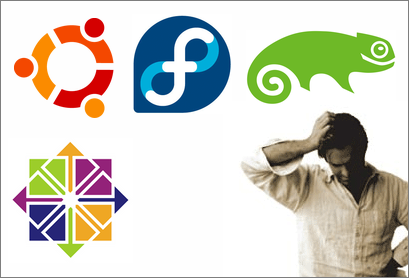 I have been using Linux at home for years now. I started with Redhat in 1999, moved to Fedora (Core) in 2003, had a great time with Gentoo in 2004, discovered Kubuntu in 2005 and this year I've moved to Ubuntu. At work, I used Redhat initially (1999) until I discovered that Centos was a free clone of Redhat Enterprise Linux and this is what I've been using for the past few years.
I have ordered a brand new Dell PowerEdge 840 server for Knowledge Seven Ltd and I'll normally get it in one or two weeks. And this has started to give me massive headaches as I can't choose what Linux distribution to run on it.
I do not want to run a Linux distribution which is not free and therefore this rules out both Redhat Enterprise Linux and SuSE Linux Enterprise Server. I've spent some reading reading about Ubuntu Server Edition and openSUSE:
Ubuntu Server Edition — I've been a very satisfied Ubuntu (home) user for years now but I have some doubts about running it on a (non-mission critical but still…) server. It seems to me that Ubuntu is not proven on servers even though it is derived from Debian (which is not an option as I am not willing to learn yet another distribution…) Does anyone has some experience on running Ubuntu on a real server with three Gigabit interfaces, LVM and Software RAID 1?
Even though both are nice, I am somewhat reluctant to use any one of them. Ubuntu Server Edition is not yet proven and I have no experience of openSUSE. Can someone convince me to change my mind?
In the meantime, this leaves me with Fedora and Centos and I really really really can't decide…
Fedora — I used Redhat and Fedora Core on real servers before and I was mostly satisfied. One problem I had with a Redhat 7.3 server five years ago was that there was no real upgrade path to Redhat 8.0 and that left me with a server where I had to compile everything from source (Apache, Samba, etc.) I've read that upgrades are painless now but is this true? Is running Fedora on a server something sensible to do given that there is a new version of the distribution every year? On the other hand, I know a lot of people (including my younger brother) who use Fedora for everything and who are very satisfied.
Last but not least, Centos — This is the distribution that I've previously deployed on a number of servers. Most of the time, I've had no problems at all. In fact, Centos is a freely available recompilation (I'm simplifying…) of Redhat Enterprise Linux which is the de-facto standard Linux enterprise distribution. But it is sometimes, ahem, boring (but is this a bad thing on a server?)
Fedora has a lot of features… decreasing its reliability? Centos, which is indirectly derived from a prior (and more stable) version of Fedora, is Redhat Enterprise Linux but will it satisfy a geek like me who loves to experiment?
Please help me choose. Or else I'll have to toss a coin.