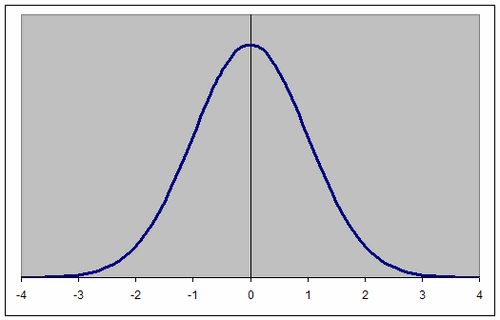 This is a nice normal distribution curve and this is what we expect of the performance of a representative sample of students when having an exam: a few hopeless cases, lots of average students and a few very bright persons.
Here is what we have instead in Mauritius: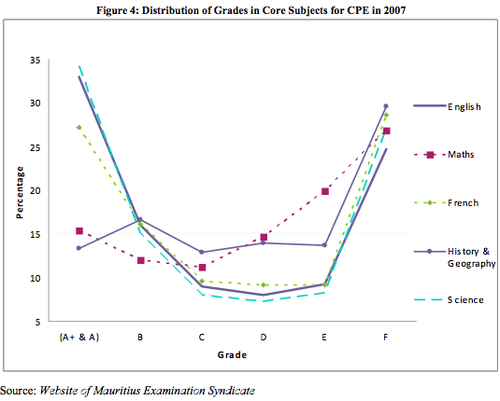 This is taken from pg. 24 of the Draft Education & Human Resources Strategy Plan for 2008-2020 published yesterday by the Mauritian Ministry of Education. Here is a revealing quote:
"The above results from the academic deficit starting from the primary sector. An analysis of the distribution of pupils' pass rates at the CPE level over the past six years indicates that the distribution of scores is "U-shaped" instead of the expected normal bell-shaped distribution associated with the distribution of intelligence in the population. Indeed, the distribution of pupil achievement scores is very unusual. This is depicted in Figure 4 […]. Mauritius produces a significant number of primary school graduates with "A" scores and a significant number with "F" scores and a low number of pupils with the intermediate scores of "B" to "E". 

 The "U- shaped" curve indicates that the system has developed into a two track-system and characterises an important inequity in learning pupil achievement."
The Ministry of Education of the Republic of Mauritius is officially saying that our primary education system level has developed into a two track-system. I would say that the same thing is happening at secondary and tertiary levels.
The Minister is not saying that rich people are on the right and poor people on the left. Instead, he is saying that this U-shape curve is in total contradiction with the normal distribution of intelligence in the population. This means that CPE exam do not test the intelligence of young Mauritians. What does it test? God knows.
Personally, I'm disgusted. We are destroying the future of countless young people every year and wasting a lot of money on lots of scholarships for people who don't come back to contribute (or have the decency to respect the terms of the bond they signed.)
Time for change I would say. Is this the Obama effect I was hoping for?