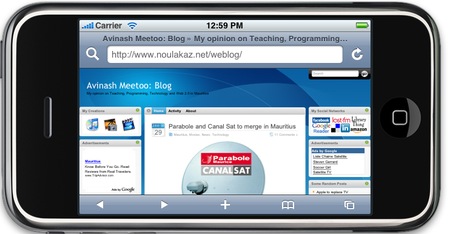 Patience is a virtue.
I've been told that the iPhone 3G will shortly be available in Mauritius for purchase. To be more precise, the devices are coming to Mauritius this month and are expected to be sold as from November.
Unfortunately, I don't know anything about the price but I'll hazard a guess of around Rs. 20,000 for the 8Gb model and Rs. 23,000 for the 16Gb model in line with the quoted price in the Hong-Kong Apple Store. I know this is steep but you need to bear in mind two important things:
Firstly, the iPhone is not only a cellphone despite its name. It is a Wifi-enabled computer (with a powerful browser and enterprise-grade email client) and a video iPod and a GPS receiver and a game console and a digital camera which can also be used to make 3G phone calls. Additionally, hundred of free and commercial applications can be downloaded from the Apple iPhone AppStore (direct link to the AppStore for iTunes users) greatly increasing the capabilities of the iPhone.
Secondly, the price (if confirmed of course) compares favorably with what Americans pay. The 8Gb and 16Gb models of the iPhone 3G cost $199 (about Rs. 6000) and $299 (about Rs. 8500) there. But, and this is a massive but, you are forced to subscribe to a voice plan (to make calls), unlimited data plan (to access the web) and (optionally) a SMS plan (to send SMS) at around $75 (about Rs. 2000) per month for two years. For the 16Gb model, this amounts to Rs. 8500 + 24 x Rs. 2000 = Rs. 56,500 (mind you, for unlimited data i.e. browsing, emailing, chatting and Facebooking which does not really exist here.)
Of course, here we'll have to pay for pre-paid voice and SMS credits as well as 3G data. For the sake of argument, let's say we accept to pay Rs. 56,500 – Rs. 23,000 = Rs. 33,500 for 2 years. This equates to, say, downloading 2Mb of data (Rs. 0.01 per Kb i.e Rs. 20), sending 10 SMS (Rs. 6) and making 15 minutes of voice call everyday for two years which I find excessive.
Personally, I don't intend to use my future iPhone in this fashion. Remember, it has a Wifi antenna and, as I am nearly always near an access point, I will use Wifi when browsing and checking my emails. What I am implying is that I don't think I'll have to buy more credits to be able to use my future iPhone compared to what I'm paying now with my trusty Nokia 6288.
So, in a sense, we're getting a better deal than Americans as we have the choice of not using (and not paying for) the data plan if we don't want to. Heck, we can even choose not to use 3G!
The image above
I already have an iPhone 3G… except that it is just a software simulator. In fact, today I installed the Apple iPhone Software Development Kit on my MacBook (you need a Mac…) which, in addition to all the tools needed to build iPhone applications, features this iPhone simulator. It works, it's nice-looking and it gives me the opportunity of making nice screenshots.
What can I ask more?
I know!
I need to convince my Minister of Finance (aka my dear Christina) to allow me to ask Father Xmas a black 16Gb Apple iPhone 3G in December :-)
Alleluia.