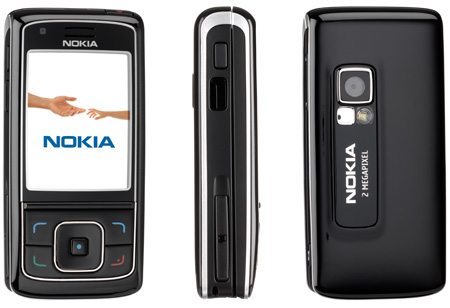 Last month, I bought a Nokia 6288 cellphone in Kuala Lumpur, Malaysia. Here are its main features:
High gloss black painted surfaces
Slide concept
High-quality video recording and playback
Bright QVGA 262,144 color display
Two integrated cameras: Back side 2 megapixel camera with flash and front side VGA camera for video calling
Two-way video call capability for face-to-face communication
Video ringtones
512MB miniSD memory for saving those special moments
High-speed connections with 3G and EDGE
The phone is a Series 40 3rd Edition phone. So nothing too fancy. But it's functional and quick to use. It feels a little fragile though and that's why I always carry it in a pouch that Christina gave me.
The 2 megapixel is woeful at night but good (but not excellent) in bright light. I've managed to capture some nice photos of the family and I've even put them on Flickr! In fact, it's great to always have a decent camera handy.
Connectivity
The cellphone comes with a USB cable and even though I managed to make it work with my Macbook once, it has stopped working since. But I don't care as Bluetooth works great. I use the great PhoneDirector application to copy data to and from the cellphone. And iSync also works great for synchronizing the address book after this simple hack.
Conclusion
My Nokia 6288 is a good cellphone. Granted, it's camera is not great. And it seems to be fragile. But you can use it to make calls (and this is important on a phone). And it's user interface is snappy.
I'll use it until I become rich enough to buy an Apple iPhone :-)
An essential update
For some unknown reason, the phone does not allow Java applications to access the web and this is a pain in the ass if you want to use GMail or Opera for example.
I finally found the solution today!
Follow the steps and everything will be OK. The only slight modification I had to do was to use "WEB" instead of "Cingular WEB" as this is what Emtel calls it.