Hooray!!!
Steve Jobs has just announced the new Intel-based MacBook Pro and iMac.
According to MacNN, Steve Jobs has just uttered those words about the new MacBook Pro:
"Tried to do everything to get a G5 processor in PowerBook. [Here is the] MacBook Pro. Use the Intel Core Duo. It is 4-5 times processor than the PowerBook G4. Integer […] 4.5x faster. Fastest Mac notebook ever. Also the thinnest available. 15.4-widescreen LCD display that is as bright as Cinema Display. Also built-in iSight."
This is my dream computer!!! Here are the official specs for the 1.67GHz model:
Main

Mac OS X v10.4.4 Tiger
Intel Core Duo processor @ 1.67GHz
2MB on chip shared L2 cache
667MHz frontside bus
512MB of PC2-5300 (667MHz) DDR2 memory
80GB 5400-rpm Serial ATA hard
SuperDrive (DVD±RW/CD-RW)
Backlit keyboard with ambient light sensors
iLife '06 & Photo Booth & Front Row

Video
Audio

Analog/Digital audio in and out
Stereo speakers and internal microphone

Connectivity

Apple Remote
AirPort Extreme wireless networking (Wifi 802.11g standard)
Bluetooth 2.0+EDR
10/100/1000BASE-T Gigabit Ethernet
One FireWire 400 port
Two USB 2.0 ports
One ExpressCard/34 slot
And, of course, Apple Store is now open again: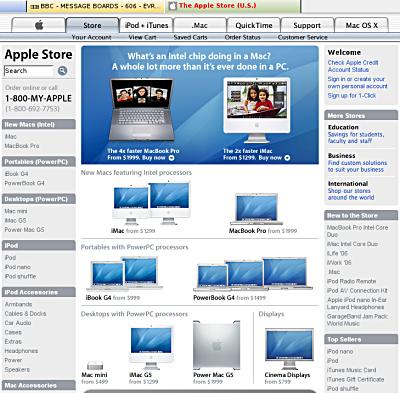 Available as from February at $1999. I need to start saving NOW!