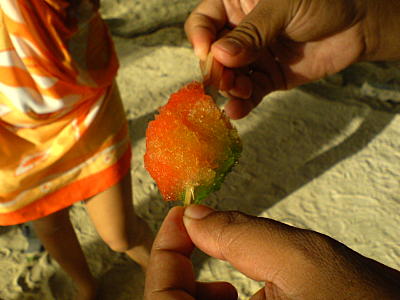 We were at Péreybère on Sunday as delightfully narrated by Gavin on his blog. There, after some swimming and kayaking, we indulged ourselves (twice!) in some "glaçon rapé" (pictured above). It's basically, in case you are not from Mauritius, ice served with different kinds of syrup.
I may be wrong but I think "glaçon rapé" is typically Mauritian. I don't remember seeing something similar in other countries.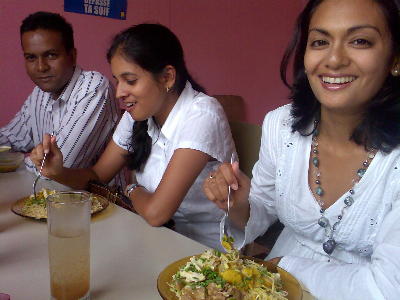 Another example might be "mine-bouillie carri gros-pois" (boiled noodles with beans curry). Granted, many have never tasted it. But I can tell that this bizarre combination tastes very nice. Just ask Kavi, Begum and Christina who are converts now!
Yet another example is the "dholl puri" which is one of the staple food of many of us at lunchtime. It's a kind of pancake with a mixture of different curries and chili. I didn't see anything similar when I visited India.
Can you think of other examples of food only found in Mauritius?
("Glaçon rapé" photo by G@V!N)