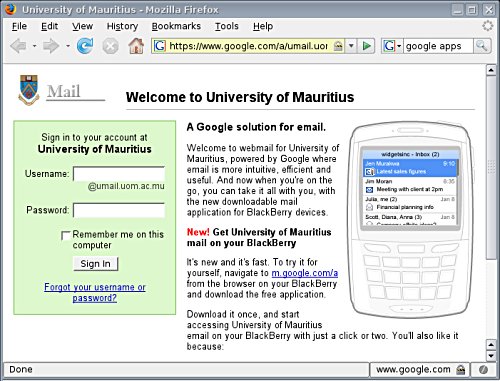 The University of Mauritius is now using Google Apps to provide enhanced services to all 6000 students. They will get:
GMail = a web-based mail client with chat facilities with 2Gb of storage,
Calendar = with collaborative features i.e. perfect for organizing meetings,
Docs = collaborative online word-processor compatible with Word and the OpenDocument Format,
Spreadsheet = collaborative online spreadsheet compatible with Excel and the OpenDocument Format.
Let's hope that the bandwidth the students have at university will be sufficient for them to use these apps!
The students will also have the possibility to read and write emails from their mobile phones using either a customized web interface to Gmail or a nifty Gmail Java application which Google offers for free. (Crap! The application only works with Blackberry devices!)
What is cool is that everything is powered by Linux and Open Source Software.
I am happy :-)