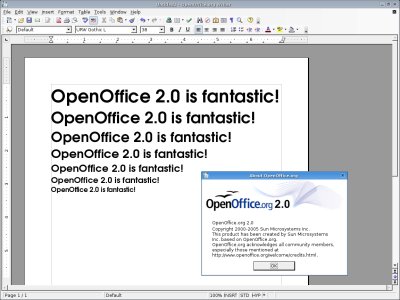 OpenOffice.org 2.0 has been released today!
From the website, OpenOffice.org 2.0 is an open, feature-rich multi-platform office productivity suite. The user interface and the functionality is very similar to other products in the market like Microsoft Office or Lotus SmartSuite, but in contrast to these commercial products OpenOffice.org is absolutely free.
It contains a word processor, a powerful spreadsheet, a multimedia presentation software, a vectorial drawing application and a database frontend.
OpenOffice.org 2.0 has a lot of features. Some of those are:
OASIS OpenDocument is the native file format. For those who live on another planet, this format will become the de-facto standard for document interchange in the coming years.
Nearly perfect (in my opinion) compatibility with Microsoft Office documents (read/write Word/Excel/Powerpoint files).
Perfect PDF export.
Multiplatform. The softwars runs natively on Linux, Windows and Solaris and two ports to Mac OS X are also available (X11-based and native Aqua/Cocoa/Java).
Personally, I've been using OpenOffice.org 1.1 for years (I don't have Microsoft Office either at home or at work!). I switched to 2.0 about two months ago (when it was still beta) and I've had ZERO problems.
I have a little secret to tell you. OpenOffice.org Writer may be a fantastic word-processor and may be a strong competitor to Microsoft Word, but the diminutive LyX (which basically is a nice graphical frontend to LaTeX) is the BEST application to use to write documents. Try it too. I'm sure you will be nicely surprised!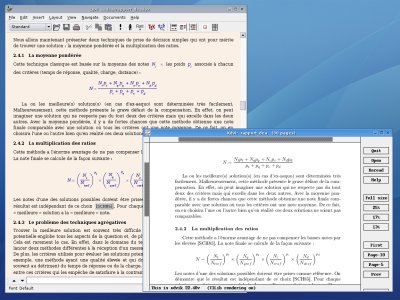 Le Roi est mort, vive le Roi! Mais, n'oubliez pas la petite Reine :-)