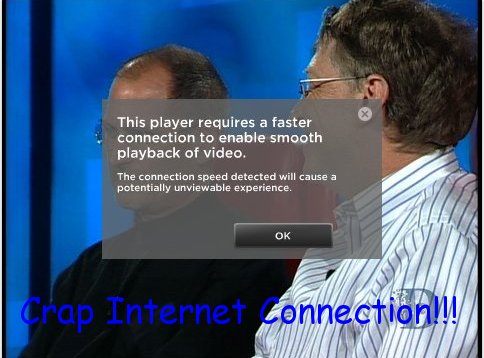 On the 30th of May 2007, something historic happened:
Microsoft chairman Bill Gates and Apple CEO Steve Jobs sat down together for an interview at the fifth annual All Things Digital Conference to talk about technology and what the future holds!
This is historic because (i) those two are arguably the most important people in the (proprietary) computer business and (ii) they publicly spoke together only twice before.
The full transcript can be enjoyed here. Unfortunately, I couldn't watch the videocast because the connection speed detected will cause a potentially unviewable experience!
This is crap! We are in 2007. I am paying lots for my 256kbit/s MyT Internet connection and I can't watch an historic video!!! And I'm sure I'm not alone in Mauritius in this situation.
One important quote from the transcript on the importance of video:
Bill Gates: You know, take what can happen with education now that video is mainstream and all these tools that let you do rich interactions are very mainstream. I'm very excited about that. You know, the idea of empowerment goes back to the very beginning of our industry and some of those dreams that this would be used by students or that teachers could get better and learn from each other in these new ways, we're just at the threshold where some of those things can happen.
Ha! Ha! Ha! He should come to Mauritius and look at what kind of bandwidth we are getting even though we are paying for a lot more.
I've done a small test. I've downloaded a song I composed from noulakaz.net which is found in the USA. The song is 4,276,087 bytes long and downloading it took 6 minutes and 5 seconds. According to my calculations, this is a download rate of 88 kbit/s.
Now, this is only 35% of the 256kbit/s that I'm paying for. Can you imagine this kind of abysmal ratio in any other situation? What about a lecturer doing only 35% of his classes? Or a doctor healing only 35% of his patients? Or a fridge working during only 35% of the day?
Mauritius Telecom is pathetic. And the more I think of it, I think we might have a strong case against MT for product defect.