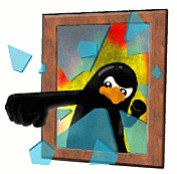 The European Union has fined Microsoft a record 497.2 million euros (Rs. 15,500,000,000 !!!) for abusing its near monopoly with Windoze and for having an illegal behaviour which is still ongoing.
Technically, the EU wants Microsoft to :
(1) Take out Windows Media Player from Windows so that competitors in the multimedia sector can sell their own "media player"
RealPlayer for instance, or WinAmp, are bound to die if such measures are not taken. Microsoft cannot force unto someone buying its operating system its own media player, its own web browser (viz. Antitrust case in the US) and, in Longhorn, its own virus killer (isn't it Norton ?)
(2) Give access to detailed information (including part of the source code) of the Windows kernel and tools to software vendors building tools for the server market so that their tools can work optimally with Windows.
Oracle for instance is bound to work better with Linux now than Windows because Oracle Corp. has full access to the Linux source code and can optimise its database. But with Windows, Oracle cannot do that for the time being while Microsoft has full access to Windows source code (of course) to optimise SQL Server. This is clearly detrimental to those who have bought Windows but want to run a software which isn't from Microsoft.
En résumé, Microsoft's guys are bad guys, they stiffle competitors and they sell crap products.
Message to the Mauritian Government: "Paul, ouvert to lizié…"
Linux rules :-)