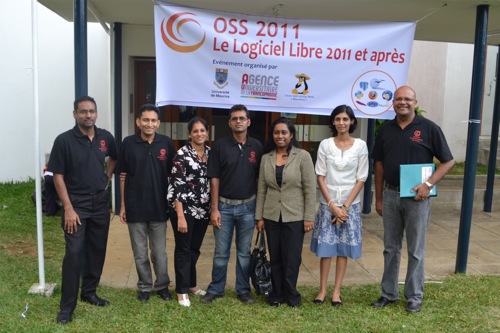 OSS2011: Le Logiciel Libre, 2011 et après
Thank you to all participants for making this seminar on Open Source Software in Mauritius such a success.
All the members of the organising team (from left to right: Vara Appavoo / UoM, Ajay Ramjatan / LUGM, Begum Durgahee / UoM, Anwar Chutoo / UoM, Jayantee Gukhool / AUF, Anuja Appavoo / UoM and Avinash Meetoo / LUGM) worked really hard to get everything right. Of course, we were far from being perfect but, still, we were happy as all of us, organisers as well as the numerous participants, learned a lot during the day and met interesting people.
Special thanks to LUGM members who were present on that day especially Logan Velvindron who talked about how he has managed to mitigate the effects of denial of service attacks in OpenBSD. Special thanks also to Ajay Ramjatan who brought his own computers to demonstrate a variety of Open Source Software to the participants. His focus on multimedia software was a refreshing change from what we generally are shown during such an event.
The presentations from institutions like the MIE and UoM were very interesting as well as those from the other students (I was very impressed!) and private companies.
Of course, I loved the interactive session from 13:30 to 15:00. I had the pleasure of being the chairperson for that session and I found the discussion very lively and enriching. I loved how young people and older ones (like me…) could share the same kind of vision for our beloved country.
In three weeks, Anwar Chutoo and his team will finalise a report on the conclusions reached during the event which will then be circulated to all participants.
Once again, thanks to all who helped: organisers, presenters as well as participants.
See you all for OSS2012.
(Thanks to Irfaan Lamarque for the nice picture)