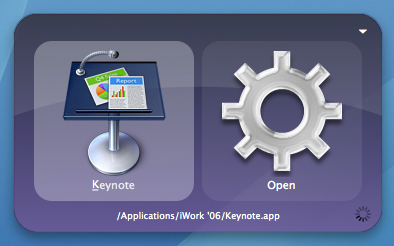 Apple, besides inventing great computing devices and operating systems, also develops a lot of software. I've already blogged about iLife and third-party iLife-enabled applications like Comic Book.
Apple also does iWork which contains two applications. The first one is a word-processor / desktop publishing program called Pages and the second one is a presentation software called Keynote. The next version of iWork will (if rumours are true) contain a spreadsheet.
For some profound reason[1], I decided to give Keynote a try today (I've installed the 30-day demo version) and I must say things look good.
In a nutshell, Keynote
Read and writes Powerpoint files
Integrates with iLife (photos, videos and music)
Renders presentation beautifully
Offers a number of Apple-designed themes
Supports 3D transitions using OpenGL
Exports presentations in Quicktime, PDF and Flash formats (the Flash export is particularly interesting because I want to have my presentations on the web)
I'll use Keynote for some of my next presentations to see if it is good enough compared to OpenOffice Impress which I currently use.
One nice rule to follow when doing a presentation is the 10/20/30 rule by Guy Kawasaki. A fantantic website with lots of resources and insights on presentations is Presentation Zen by Garr Reynolds. This page is particularly relevant.
I'll keep you updated.
[1] The profound reason is that I want to become a better teacher. Some of my students might have some difficulty with my style of teaching and I want to explore some new avenues…