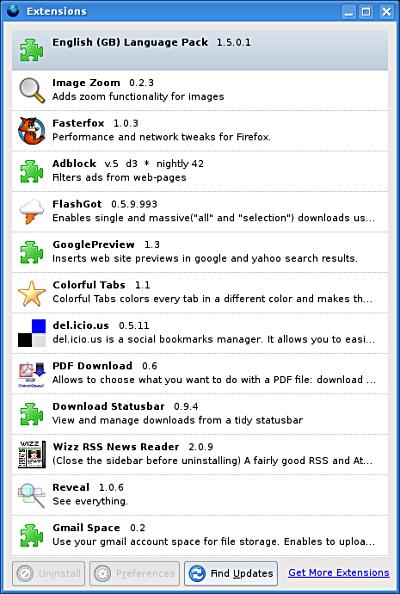 As you can see, I am currently running Firefox 1.5.0.1 as my web browser. Here are the extensions that I have installed :
Image Zoom
Fasterfox
Adblock – perfect for blocking, you've guessed correctly, ads! It can also block annoying Flash animations…
FlashGot – connects KGet (which I use as a download manager) and Firefox.
GooglePreview – one of my favourites. It displays thumbnails of the websites returned when you search for something using Google.
Colourful Tabs
del.icio.us – you need to try the del.icio.us service. I'm sure you'll be hooked. Check the popular links.
PDF Download
Download Statusbar
Wizz RSS News Reader – check it out. It's a very good RSS aggregator.
Reveal
Gmail space – use your Gmail account like an online 2Gb disk! It works!!!
By itself, Firefox is really nice. But combined with extensions, it just blows away that piece of crap software from our friends (not) from Redmond :