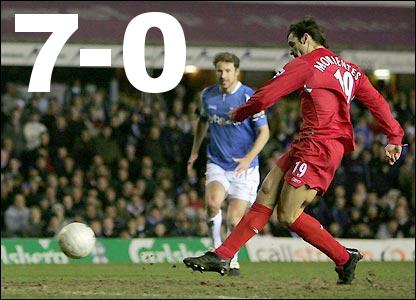 What can I add to this and this?
Here are some quotes:
Reds run rampant at St Andrews
Liverpool crushed struggling Birmingham
Liverpool's biggest ever FA Cup away win
A 7-0 destruction at the hands of Liverpool
The St Andrews' massacre
Goals were from: Hyypia 1, Crouch 5, 38, Morientes 59, Riise 70, Tebily 77 og, Cisse 89!!!
A fantastic news for Liverpool is the return of Momo after his very serious eye injury (and he was instrumental in the first goal after 54 seconds).
Here is our Davids lookalike:
(Photos courtesy of BBC Sports)