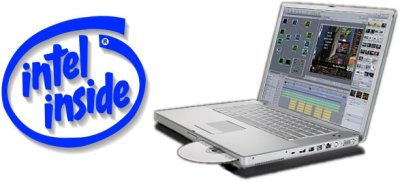 During WWDC 2005, Steve Jobs announced that new Macs will use Intel processors instead of PowerPC processors.
The rationale behind this is easy to understand if you know some facts:
The PowerPC G4 is a 32-bits processor and it powers the iBooks and PowerBooks.
The PowerPC G4 was released in 1999 and has a FSB of only 167MHz therefore the overall performance of the computer is limited.
Now,
Intel has a very powerful mobile platform, Centrino, using the mighty Pentium-M processor which is much more efficient than the Pentium IV
Intel is currently developing a new version of the Pentium-M called Yonah which is a dual-core design with a shared 2MB L2 cache offering SSE3 instructions and Virtualization with a 667MHz FSB.
Yonah is 32-bits (i.e. it does not offer EM64T instructions)
Yonah will be available around June 2006 with the third version of the Centrino platform, Napa.
Now let's add 2 and 2 together…
Apple laptop's have severely underpowered 32-bits processors…
Intel will have a very powerful 32-bits mobile processor around June 2006.
Steve Jobs has said that the first Intel Macs will be released around June 2006.
Conclusion:
In June 2006, Apple will release its first Intel-powered computers. They will be iBooks and PowerBooks using the Intel Yonah processor!
I think I'll wait for 9 additional months. NeXTstep, nous voila… after 17 years and 9 months :-)
PS:
Intel is currently working on its next generation microarchitecture which will feature Conroe, the replacement for the (crap) Pentium IV and which will share lots of similarities with the Pentium-M. Conroe will be 64-bits (like the PowerPC G5) and will be much more powerful than current processors. It's mobile version is called Merom. Both will be released at the end of 2006. And I think that Apple will then release Conroe-based PowerMacs and Merom-based PowerBooks. And leave Yonah in the iBooks for some time…