Education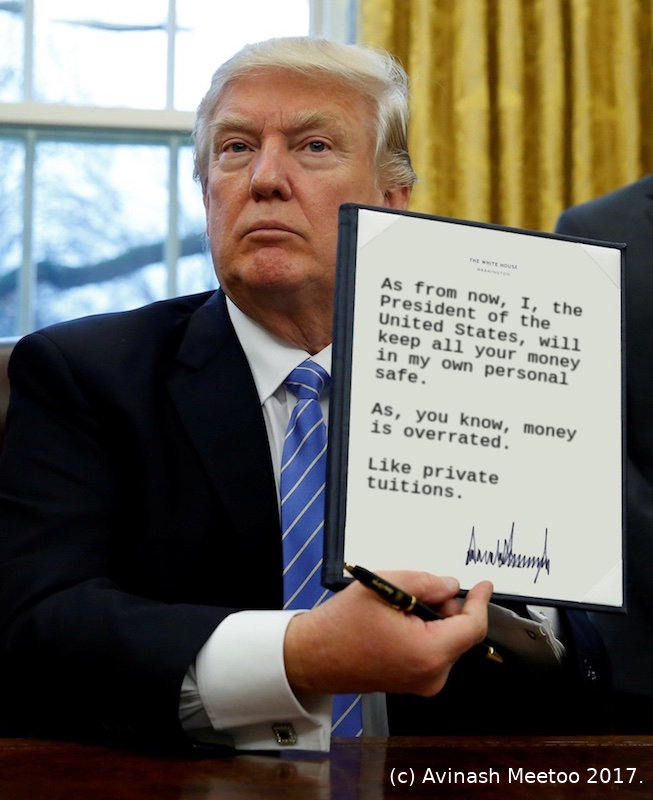 You can make Trump promote your sarcastic executive orders too :-)
Here are some songs which I absolutely loved when I was a kid in the 80s:
Here is the list of tracks:
1981 Depeche Mode – Photographic
1981 Queen – Under Pressure
1981 Soft Cell – Tainted Love
1981 Talking Heads – Once In A Lifetime
1981 The Human League – Don't You Want Me
1982 Duran Duran – Rio
1982 Madness – Our House
1983 Frankie Goes To Hollywood – Relax
1983 Heaven 17 – Temptation
1983 Kraftwerk – Tour De France
1983 Michael Jackson – Billie Jean
1983 New Order – Blue Monday
1983 Van Halen – Jump
1984 Dead Or Alive – You Spin Me Round (Like a Record)
1985 OMD – Secret
1985 Simple Minds – Don't You (Forget About Me)
1986 RUN-DMC – Walk This Way
1987 Eric B. & Rakim – Paid In Full
1987 INXS – Need You Tonight
1987 M.A.R.R.S. – Pump Up The Volume
1987 Pet Shop Boys – What Have I Done to Deserve This?
1987 The Cure – Just Like Heaven
1987 U2 – With Or Without You
1988 Bomb The Bass – Beat Dis
1988 Erasure – A Little Respect
1988 Neneh Cherry – Buffalo Stance
1988 S-Express – Theme from S-Express
1989 Madonna – Like A Prayer
1989 Soul II Soul – Back To Life
1989 Depeche Mode – Personal Jesus
As you can see, I was (and I still am) a fan of electronic music.
At the beginning of the 80s, Italians created a new genre of music, Italo Disco, and unleashed to the world hits such as Tarzan Boy and Comanchero:
A few years later, people from England invented Acid and the rest is history:
Enjoy :-)
There is something I have noticed lately: most Mauritians do not care about the Champ de Mars independence day celebrations. This is in stark contrast with people from other nations such as France, the USA and India who put a lot of emphasis on properly celebrating their national day.
The only thing I can conclude is that Mauritius is not a nation yet despite our hymn (as one people, as one nation).
If you think about it, this is perfectly normal: a nation designates larger groups or collectives of people with common characteristics attributed to them.
Up to now, politicians have not managed to propose common characteristics that we could share and adhere to.
According to this definition, we are not a nation yet.