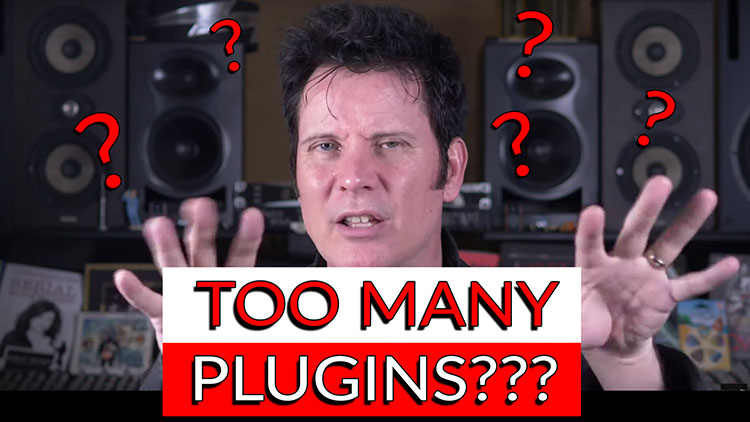 I agree with Warren Huart: we have too many audio plugins.
I did an interesting exercise today. I chose 10 software instruments, which I have purchased over the years, sorted in alphabetical order, that I need to learn in depth. Here they are:
Brainworx bx_oberhausen
KV331 Audio SynthMaster 2
Roland Cloud D-50
Roland Cloud JUNO-60
Roland Cloud ZENOLOGY Pro
TAL Software TAL-Sampler
UVI Falcon
Waves CODEX Wavetable Synth
XLN Audio Addictive Drums 2
XLN Audio Addictive Keys
I also chose 20 effect plugins (I couldn't choose 10!) and I also need to learn how to use them properly too:
Brainworx Black Box Analog Design HG-2MS
Brainworx Shadow Hills Mastering Compressor Class A
Eventide Blackhole
Soundtheory Gullfoss
Soundtoys EchoBoy
SSL Native Bus Compressor 2
SSL Native Channel Strip 2
SSL Native X-Saturator
Tokyo Dawn Records TDR Limiter 6 GE
Tokyo Dawn Records TDR SlickEQ Mastering
Waves Abbey Road Chambers
Waves Abbey Road Plates
Waves CLA-2A Compressor / Limiter
Waves CLA-76 Compressor / Limiter
Waves H-Reverb Hybrid Reverb
Waves J37 Tape
Waves Nx Ocean Way Nashville
Waves PuigChild 670 Compressor
Waves PuigTec EQs EQP-1A
Waves Scheps 73
Of course, I'm using Cockos Reaper as my DAW.
Fortunately, all of these 30 plugins are superb and I do have some experience with many of them so the learning curve will not be that steep. I've used many of them to create my existing music.
On the other hand, I really need to learn how to better listen, especially when using plugins which emulate mythical hardware. This is the only way to grasp where their magic lies and, consequently, know when or when not to use them.