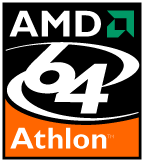 After more than one month without a computer at home (yep ! that's why I was so quiet), I'm happy to announce that I am now the proud owner of a brand new AMD Athlon 64 3000+ processor ruuning on a very good Abit KV8 Pro motherboard.
I'm still running x86 Gentoo Linux right now but I'll quickly switch to AMD64 Gentoo Linux in the coming weeks.
To be frank, I was also considering an Intel Pentium 4 3.0 GHz (Prescott) but at the end I chose 64-bit technology as I feel that this is the future of the PC architecture. With a 64-bit OS (like AMD64 Gentoo Linux), the Athlon 64 works in 64-bit mode. In this mode, all 8 general purpose registers (like EAX and EBX) are extended to 64 bits and 8 additional 64-bit GPR come into existence (R8 to R15). Furthermore, the SSE 128-bits registers also double in number. This makes for a formidable number of registers (compared to plain old x86) for a (nearly) RISC programming paradigm.
And don't forget that Intel has licenced this formidable AMD64 technoloy and has implemented it in some very expensive Pentium 4 and Xeon as EM64T technology.