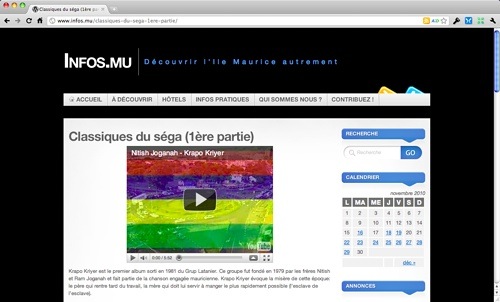 Christina and the kids like to ask me the following during the week-end: "What are we going to do today?" Sometimes, the answer is obvious but, to be frank, sometimes I am not inspired at all and I find it tough to come up with something worthwhile.
In fact, I've slowly realised over the years that a lot of Mauritians (and, by extension, foreigners living in Mauritius) do not really know what's happening in the country and, consequently, waste their free time indulging on the self-contemplation of their navels…
That's why I got the idea of creating a website,
www.infos.mu
, to inform people about events happening on the island as well as provide practical information not readily available elsewhere. I really want (us) to discover Mauritius differently. Â The site aims to become a comprehensive directory of information for Mauritians and foreigners.
Here are cool things you can do on www.infos.mu right now:
Plan your weekends in advance by checking events ordered by date.
List of banks, embassies, consulates and hotels.
Departure and arrival times and dates of planes.
etc. etc. etc.
Sure, the website is still a work in progress. And I really need to enhance the navigation (any idea of what I could do?)
One key idea of www.infos.mu is that it is a contributory website with user-generated content: anyone can become a contributor and add events which he/she feel are worthwhile. You have an event happening in your region? Do not hesitate to share the event with us.
I would like to thank Ishtiba Meeajane, Liliane Chan as well as Christina who have done a formidable job to help me set up www.infos.mu.
www.infos.mu is a free service provided by Knowledge Seven, my own company which provides consultancy, support and training for opensource software. By the way, I've a blog on Knowledge Seven's website too…
(A precision: the Google ads on the website are, eventually, for covering hosting costs.)