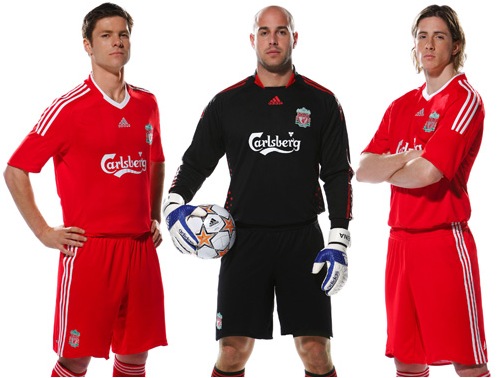 Today is, for me, the most important football match of the whole season: Liverpool against Manchester United at Anfield!
Of course, year in year out, I blog about Liverpool being the most successful english football team and about how I'm sure that Liverpool will comprehensively beat Manchester United at Anfield. Except that I was right only for the first part. Liverpool is still the most successful team in England. But, unfortunately, since 2001-2002 where Liverpool won 3-1, my team lost against Manchester United at Anfield last year (0-1), in 2006-2007 (0-1 again), in 2004-2005 (0-1 once more), in 2003-2004 (1-2) and in 2002-2003 (1-2Â as well.) Liverpool only managed to draw 0-0 in 2005-2006.
So it seems the odds are against Liverpool winning today. Five defeats and one draw in the last six years do not look too good.
Reading the match reports reveal the main reason behind this run of defeats: terrible defensive mistakes which Manchester United players were quick to capitalise on. In 2002-2003, the match was even until "[Diego Forlans]'s 65th-minute opener came after an abysmal mistake by Jerzy Dudek in the Liverpool goal." In 2003-2004, "[Ryan] Giggs' wicked left-foot cross evaded [Ruud] Van Nistelrooy, but also deceived the diving [Jerzy] Dudek and flew into the far corner." In 2004-2005, "[Jerzy] Dudek allowed Wayne Rooney's tame 25-yard shot to slide in after 22 minutes to gift the former Everton striker a goal in front of The Kop." In 2006-2007, "substitute [John] O'Shea pounced after Liverpool keeper Pepe Reina fumbled Cristiano Ronaldo's free-kick." Last year, "[Carlos] Tevez was lurking to turn in Wayne Rooney's driven shot from a Ryan Giggs corner three minutes before half-time."
Three mistakes by Jerzy Dudek. One by Pepe Reina. And, last year, a goal from an unmarked player during a corner kick.
Apart from those dreadful moments, the matches have been fairly even as can be seen in the one goal differences. Liverpool was unlucky at least once or twice in the sense that they dominated the game but lost because of one terrible mistake. But losing is losing. Manchester United has won five times during the past six years and this is a fact.
So why do I think that Liverpool will win today?
At least for two reasons. First, I am a Liverpool fan and I can't be rational today. Manchester United is THE enemy and every single drop of blood in me wants Liverpool to win. Call it blindness. I call it passion.
The second reason is that Rafael Benitez knows that Liverpool's failure to win over Manchester United at Anfield was mostly because of defensive errors. I'm sure he has worked on that part a lot with the players. Liverpool has an excellent defense and, with Javier Mascherano, a world-class defensive midfielder. Defense also starts from the front and Fernando Torres, Robbie Keane, Xabi Alonso and Steven Gerrard have enormous work rates. I'm, of course, assuming that Fernando Torres and Steven Gerrard are starting today but they are our two best players and can be rested later…
My prediction for today's match is 2-0 for Liverpool.
An update:
I was wrong. So wrong. And I apologize. Liverpool only won by 2-1 :-)
The beauty of the match was that both Steven Gerrard and Fernando Torres started on the bench. Liverpool managed to completely outplay Manchester United during the second half. Once more, Robbie Keane failed to score but he worked a lot. I was impressed with Albert Riera. He was first-class today and his dribbling mesmerized the Manchester United defenders. His crossing and physical presence were also very good.
I watched the match with my father (who is a die-hard Manchester United fan) and I was telling him that the big difference between Liverpool and Manchester United was the price Liverpool could buy players. For instance, the $9m Dirk Kuyt has a bad first touch compared to the $31m Dimitar Berbatov but the only way to mitigate that is to buy more expensive players…
The best thing that can happen now (following the massive influx in money at Manchester United, Chelsea and Manchester City) would be that Sheikh Mohammed bin Rashid Al Maktoum, Prime Minister and Vice President of the United Arab Emirates and ruler of Dubai, finally buys Liverpool and injects the cash which is needed to compete at the very top every season.