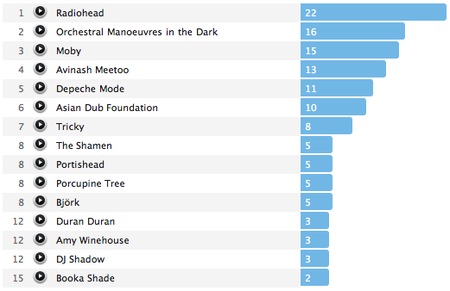 I am a fanatic user of Last.fm. Whenever I listen to a song either on my MacBook or my iPod, this information is sent to the Last.fm service which dynamically creates the chart shown above. It shows the artists I've been listening to during the past week. Here is what I feel about some of them:
I has just discovered Kid A which is an album that Radiohead did in 2000 just after OK Computer. I've been listening to it a lot this week and I love it. OK Computer is a fantastic album but Kid A is arguably better in the sense that it is much more experimental. I love artists who don't rest on their laurels after having obtained a massive success and try to innovate.
Orchestral Manoeuvres in the Dark (OMD)
I discovered electronic music in the 80's listening to Depeche Mode. But Orchestral Manoeuvres in the Dark and Art of Noise also played a big role in my musical education. OMD was very successful during this era with countless hits and platinum albums. A few days ago, I found out that OMD also liked experimenting and released very interesting tracks on the B-sides of their hits. All those B-sides have been collected on one CD and I've been listening to that lately. Furthermore, they also reworked some of their tracks for John Peel and I've also been listening to those.
I am a fan of Moby since listening to Go and then Play. I've been listening to his last album, Last Night, this week and there are some real gems on it. Moby is the grandson of Herman Melville hence his choice of artist name. The next step for me is to listen to the ambient version of Hotel. I'll do that when I'll have some free time at home without the kids jumping on me…
I like listening to my own music. They remind me of that saying: "1% is inspiration and 99% perspiration." Composing, recording, arranging, mixing and mastering your own music is really really satisfying. And, remember, "la critique est facile, l'art est difficile." I really need to start working on my third album. I do have some (relatively complete) tracks waiting for that elusive magic dust.
I am a die-hard Depeche Mode fan. This has been the case since 1985 when I was introduced to them by a good friend of mine, Yash. Since then, I have bought all their albums, lots of DVDs as well as a substantial number of singles. For new kids on the block, here is an excellent best-of courtesy of Last.fm: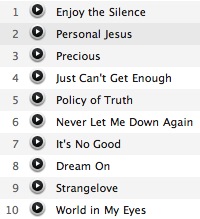 I've only discovered them two days ago. I've been listening to one of their best songs, Rebel Warrior, repeatedly since. Here is an excerpt from the lyrics:
Ami bidrohi!

I am the Rebel Warrior

I have risen alone

With my head held high

I will only rest when the cries of the oppressed

No longer reach the sky

When the sound of the sword of the oppressor

No longer rings in battle

[…]

Ami Bidrohi!

Yes the unity of the Muslim and the Hindu

Will end your tyranny

Ami Bidrohi! Ami Bidrohi!
Considered by some to be the god of trip-hop ahead of Massive Attack and Portishead. I've have just discovered his 1995 album, Maxinquaye, and I'm hooked. The music and vocals by Martina Topley-Bird are close to being perfect.
—
I know that different people listen to music for different reasons. Personally, I don't like to do what some call background listening. I rarely play some songs and do something else in parallel. For example, I am not listening to music while writing this blog entry.
What I like is foreground listening or active listening. I like playing a song or, better, a whole album and read about it and its creators on Wikipedia or Last.fm. I also love reading the lyrics at the same time as, like many of us, I have a lot of difficulties grasping them when they are being sung…
I wonder what would happen if music was banned?!?