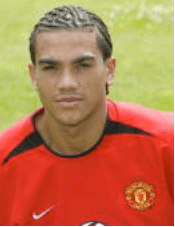 While perusing Soccernet today, I discovered that Manchester United has released on the 1st of April a young player called Ramon Calliste.
So what, I hear you say…
But, cast your mind 2-3 years back when the U17 Manchester United team came to Mauritius and the same Ramon Calliste completely destroyed our defense. I was very impressed by him that day and I was convinced that he was going to make it in a big club. In fact, he has been a regular for Wales U21 since.
Quoting Alex Ferguson : " We […] have a bunch of players around 19 and 20 years of age and I think by the time you are 20-odd then you have to be in the first team squad so we've had to release a few. Some have been tough decisions"
Good luck for the future Ramon :-)
29-09-2005: An update
Ramon is now a Liverpool player. He has signed a 1 year contract. I really hope he can impress Rafa :-)
18-05-2006: Another (sad) update
Liverpool has just confirmed that Ramon Calliste will be free at the end of his 1 year contract after having failed to establish himself in the first team. Good luck Ramon!
04-07-2006: A final update
Ramon Calliste has signed a one-year deal with League One club Scunthorpe United. Good luck and thanks for the memories ;-)